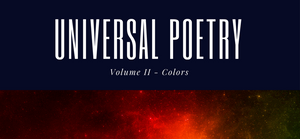 Universal Poetry: Volume 2 - Colors
Colors is about the universe and all spectrums of it's existence.
Colors play an intricate role in our emotions and feelings. Colors have power. They have the ability to create an environmental state of being.
What's your favorite color? I have a few...Green, Red & Black.
---